Ceramic coating
RestoMetal offers different ceramic coatings. With the typical matte color and heatinsulating properties. The coatings are also very resistant to oils, fats and fuel. The coating also offers good corrosion protection.
Most colors are heat resistant to 1000°C. Certain colors have, due to the used color pigment, a lower maximum temperature.
Applications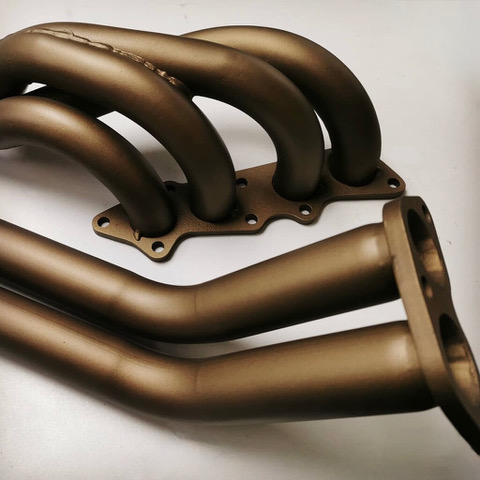 Exhausts
The ceramic coating on exhausts doesn't only look good, but it's thermal insulating effect also improves exhaust gas flow. Additionally, there will be less heat radiated from the exhaust, keeping other parts in the engine bay cooler.
Pistons
There are also various ceramic coatings available for pistons. A coating on the crown of the piston reduces the heat soaking into the piston. This lowers the temperature of the piston and thus indirectly also the oil temperature. It also reduces the heat loss in the combustion chamber, leading to a better efficiency and more power.
We also offer a special low-friction coating for the skirt of the piston. This lowers the friction between the piston and cylinder wall.
Brake calipers and drums
Due to the temperature resistance, the ceramic coating is also suitable for all brake components.
Valve covers, oil pans...
Finally, ceramic coatings are often used for many other engine parts, such as oil pans and valve covers. The good chemical resistance ensures oils are not a problem, and the high temperature resistance makes it ideal for any engine parts.